Here at Foxes Music Company, we are proud to offer some of the highest quality band and orchestra instruments in the area!
At Foxes Music we offer quality rentals for:
Orchestral Strings:
Violins ranging in size from 1/32nd to Full Size
Violas from 12" to 16 1/2"
Cellos from 1/10 to Full Size
Basses from 1/8 - ¾ size.

Brass Instruments:
Trumpets & Cornets
French Horns (Single & Double)
Trombones
Baritones & Euphoniums

Woodwind Instruments:
Saxophone (Alto, Tenor, Soprano; call ahead for Bari)
Clarinets
Flutes
Piccolos
Bassoons (Call for availability)
Oboes (Call for availability)
How our Rental Program Works:
At Foxes, your monthly rental fee never increases. We only require a 2-month commitment; from there your rental contract is open-ended and can be cancelled at any time!
Our rental rates are reasonable and determined by the price of the instrument. Here's a breakdown of the rental rates you can expect from us: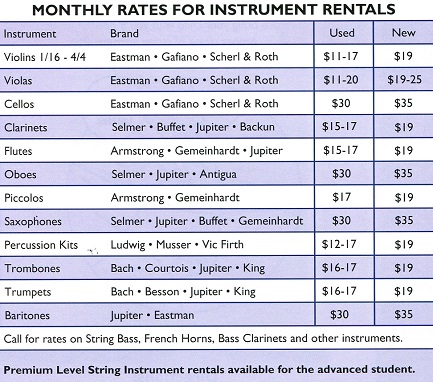 Because your monthly rental fee never increases, our program provides you with the least expensive rental plan over the course of the school year. Here is a comparison of our plan over 9 months with the rental plan offered by many of our competitors.
Foxes Plan:
(for new flute, clarinet, trumpet, trombone, violin or percussion)
9 months rent @ $19.00 + tax = $181.26
9 months insurance @ $4.50 = $40.50
Total = $221.76
This rate is for new instruments only. A slightly used instrument for $17.00/mo. would be $202.68 w/tax + insurance over 9 months.
Typical Plan Offered by Competitors:
(New and used instruments rent for the same rate)
Initial 3 month special rate + tax = $21.20
Initial 3 month's insurance @ $7.00 = $21.00
Subsequent 6 months @ $29.00 + tax = $184.44
Subsequent 6 months insurance @ $7.00 = $42.00
Total = $268.64
This comparison is for the 9 month school year only. The longer you continue to rent, the more money you will save with Foxes Music.