Choral, Organ & Handbell
As the landscape of our lives and business has changed due to COVID-19, Foxes' June Choral Sale will also look different this year.
Post cards will not be mailed.

Sale Discounts will be extended for Hal Leonard and Alfred publications.

Other publishers' terms vary so if we have the volume for a stock order with a publisher, we will extend sale-volume discount. Otherwise, these items will receive our regular discount of 20% or less for smaller publishers.
Please, check our website for current times of operation. If you'd like to use our browsing library while we're closed, please make an appointment with Barbara.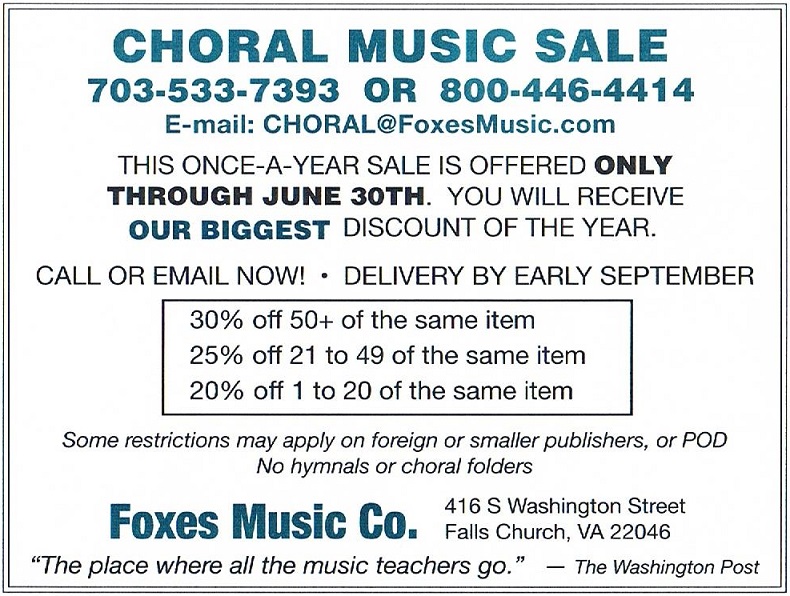 ---
This should also apply to any singing...
A couple of articles, but there are many...
This is a summary of a

widely-viewed

webinar.
---
Foxes Music's dedicated Choral staff is here to provide you with the best service and selection of sacred and secular music in the area! We have over 50,000 choral music items in our browsing library divided by voicing and special categories like Movies & Musicals, Patriotic, Spirituals, Advent/Christmas, Lent/Easter, and New Issues. Our organ and handbell music is organized in a similar fashion. We also have a large choral masterworks section, many collections, some hymnals, and we stock choral folders.
If you have any questions regarding our wonderful selection of choral music, please call us at 703.533.7393 extensions 313 and 314 or email us HERE If we don't have what you're looking for, we'll be glad to order items for you. Orders usually take 10-14 days and if you pick your order up, there's no S&H. We can obtain music more quickly with additional S&H charge. We ship music orders to our customers all over the country.
For our customers with choral accounts the regular discount on choral music is 20% except for import items or items from smaller publishers. Don't miss our annual choral music sale during June when you may obtain up to 30% discount on items depending on the quantity ordered with restrictions on foreign and smaller publishers. We will be happy to establish an account for your organization.
If you already have an order in mind you may call us, leave us a voice message, or email us HERE If you would like to send your order using an order form, our choral order form is available for download

HERE

. Once the order form is printed and completed it may be scanned and emailed, FAXed, or sent via USPS.
Click
HERE
for a wonderful, heart-warming story. WOW!
We are happy to announce that we now have perusal copies of all Mårten Jansson selections available through Bärenreiter in our browsing library. For more information about Mårten Jansson click HERE. To see the works available, click HERE.
Continue for virtual reading sessions, catalogs, and more from a few of our many publishers.
---
Click HERE to see Alfred's current Catalogs & Promotions.
Click HERE to see the current Catalogs & Promotions for Jubilate Music and HW Gray, both distributed through Alfred, including Jubilate's Sacred Sounds for Spring/Easter 2020.
---
Explore new sacred and secular choral music for college, community and professional ensembles from Hal Leonard, G. Schirmer, Boosey & Hawkes, and more.
Click HERE to go to the current, online Voices of Distinction promotion where you can view and download a brochure PDF.
---
We are pleased to help you request your show license for your next middle school musical production from Music Theatre International, R&H Theatricals, and Teatrical Right Worldwide!
Middle School Musicals from MTI, R&H and TRW Click here to view online
---
Click HERE to see all the current catalogs distributed by Canticle.
---
If you miss Hal Leonard's discontinued CDs in the mail program, you'll be interested in what they have available online. Click HERE to see all current Hal Leonard promotions.
---
Click HERE to view current Lorenz catalogs.
---
Listen to new choral music, featuring complete performances of the latest secular, sacred & Christmas music from Oxford's Choral Highlights.
---
---
Celebrate 250 years of Beethoven with this new publication!
A sacrilege or a stroke of genius? The composer and music director Gottlob Benedict Bierey (1772–1840) orchestrated the first movement of the famous "Moonlight Sonata"' by Beethoven (transposed to C minor) and added a four-part choral movement to it, which he underlaid with the text of the Kyrie from the Latin mass. The result is as astounding as it is harmonious!
Beethoven vocal
Kyrie based on the Adagio of the so-called "Moonlight Sonata"

Available in three versions:

Version for choir and orchestra (C minor)
Coro SATB, 2 Fl, 2 Ob, 2 Clt, 2 Fg, 2 Cor, 2 Vl, Va, Vc, Cb
Text language: Latin
Carus 28.009/00, full score, 15.95 €
perusal score
Carus 28.009/05, choral score,
2.50 €
Carus 28.009/19, complete orchestral parts, 23.00 €

Version for choir and piano (C sharp minor)
Coro SATB, Pfte
Carus 28.009/03, vocal score (separate edition from the choral collection Beethoven Carus 4.025/00), 3.50 €
Carus 28.009/06, choral score (at the same time also a choral score for the version for choir and organ),
2.50 €

Version for choir and organ (C sharp minor)
Coro SATB, Org
Carus 28.009/45, full score in preparation (publication approx. July 2019)
---
Click on octavo to see selections.
Advent

Christmas

Epiphany

All Saints/

All Souls

General
Reformation
---
Easy Summer Choir Pieces
Hal Leonard proudly announces the availability of the latest major symphonic work for band and choir from GRAMMY® Award-winning American composer Eric Whitacre. Deep Field was inspired by the world's most famous space observatory, the Hubble Space Telescope, and its greatest discovery, the iconic Deep Field image. Click image for more information.
A new film – Deep Field: The Impossible Magnitude of Our Universe – illuminates the score by combining Hubble's stunning imagery, including never-seen-before galaxy fly-bys, with bespoke animations to create an immersive, unforgettable journey from planet Earth to the furthest edges of our universe. The soundtrack features a new, epic Virtual Choir representing 120 countries: over 8,000 voices aged 4 to 87, alongside the Royal Philharmonic Orchestra and Eric Whitacre Singers.
---
Click HERE for ACDA 2019 Highlights including John Rutter's "Anthems for all seasons" session.
---
Alan Bullard


A perfect resource for secular choirs and singing groups who like to perform songs in a range of combinations, The Oxford Book of Flexible Choral Songs includes 51 flexibly scored choral songs, by composers including Will Todd, John Rutter, Bob Chilcott, and more.
Click HERE for more information.
---
Check out NEW Lent/Easter Portal!
---
Atlanta Master Chorale is a nationally recognized community choir whose singers are drawn from the greater Atlanta area. Led by Conductor and Artistic Director Eric Nelson, the ensemble seeks to inspire and enrich the lives of its community through performance, education, and the publication of new choral music. The pieces included in the Atlanta Master Chorale series are chosen for their technical and expressive qualities.

We hope that all who sing them will find those places where music touches spirit.
---
Women's History Month 2019 will take place in March. Celebrate the myriad of choral music from top-notch female composers and arrangers available now from Hal Leonard. Add the titles listed below and more to your spring choral concert selections!
| | |
| --- | --- |
| | Additional Titles by Female Composers |